When planning to start an automotive business and launching a new
vehicle, an automotive business network will be one of the first things to consider.
The development and production of a vehicle requires a vast range
of resources, connections, manpower, and experts that excel in their
respective areas of responsibility.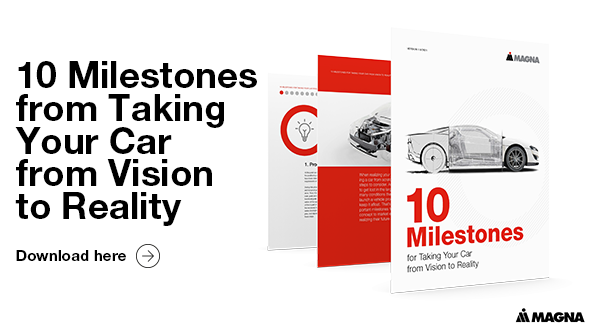 Each and every part of this business network is necessary to successfully stay on course throughout the whole project;
beginning with the idea stage,
up until the product launch
and after-sales stage.
There are basically two types of distinct systems that are meant
when talking about establishing an automotive business network: the structural elements of management and the operational systems of product development. Both are equally important for the success of the project.
Automotive Business Networks and Structural Elements of Management
When developing a vehicle, most new entrants specify their product idea
first. However, in order for a product idea to be fully realized, it has to
be integrated into a larger system of management and communication
processes that the new entrant needs to establish.
These processes are clustered into four larger elements, all of which can only be established via simultaneus engineering – meaning that the new entrant has to erect the entire automotive business network at once.
The first of these four structural elements encompasses the basic
business model that will serve as the structural basis for the later
automotive business and brand. Building the business model requires
having an overview of all relevant business processes, an outline of the
respective business case, and the necessary knowledge about the target
market, including an assessment of the potential market share.
The second element of a perfect business network pertains to the future marketing and branding strategy for the vehicle. These are the key systems for establishing a connection between a new entrant and their customers, stakeholders, partners, and investors, as they essentially define how the vehicle will be communicated.
Developing a marketing and branding strategy includes the definition of a name and USP (Unique Selling Point) for the brand and subsequent communication to the public. In essence, this element answers one question:
What exactly does the buyer get when he/she purchases the product?
It's also worth noting that the cost requirements for these two systems are commonly underestimated.
The third element pertains to the management of investors. It's
important to remember that every automotive business needs a large
amount of capital is right from the start; especially new entrants.
A new vehicle developer has to be able to describe their vision
so transparently and convincingly that investors will want to get
involved. And not only will they want to see a clear product vision and
brand identity, they'll want to see a business case and a realistic plan
for the project as well. Establishing a network of investors is certainly
a big milestone to reach and needs preparation and conviction.
The fourth of these elements includes distribution and after-sales. As
soon as the vehicle enters the market, customer and product support
become imperative. However, sales, maintenance, servicing, and so
on must all be taken into account right from the start of the project,
as many partnerships involved in these systems (garages, workshops,
etc.) need time to prepare.
Additionally, knowledge of the potential and (later on) existing customer base needs to be evaluated; a task which requires the inception of a sales network in order to acquire new customers, open up new markets, and keep existing customers happy.
AUTOMOTIVE BUSINESS NETWORKS AND OPERATIONAL SYSTEMS OF PRODUCT DEVELOPMENT
In product management and product development, the vehicle and its properties are defined in such a way that they ref lect the brand's values, unique features, and entrepreneurial ideas. These factors function as the basis for the requirement specification book and, therefore, the future vehicle.
That's why, in order to be successful in establishing the operational systems of product development, it's important to have a prior understanding of framework, market conditions, challenges, how to determine benchmarks, product specifications, and so on. Establishing a stable business network and those systems requires experience, competence in the field, and lots of work and determination.
Another fundamental keyword is supply chain management. This largely determines the costs of a vehicle. That's why you have to ensure the stability of your supply chain and of all your business network from the very beginning so that the products are delivered with the right quality and at the right price and time. It's a continuous team effort to keep supplier relations running well and ensure the correct prices and supply framework necessary for constant, high-quality automotive production.
All these systems are then followed by production – a complex and resource-consuming matter that needs to function perfectly in collaboration with product development and industrialization. In general, these systems can be outsourced to experienced companies and manufacturers. Doing so offers many benefits; mainly because there's already a lot of resources and important connections on hand.
THE CHALLENGE OF STARTING RIGHT AND SEEING IT THROUGH IN AUTOMOTIVE BUSINESS NETWORKS
Setting off into a new field of business isn't easy. Even the most basic things can trip up new entrants on their way on the market. All the systems mentioned above have to be started and kept running in parallel. Automotive business relies on this type of simultaneous engineering. It's not a linear implementation of steps, but rather the synchronous establishment of an interconnected network.
Starting an automotive business and getting the vehicle on the street demands entrepreneurial courage as well as clear processes and procedures that precisely describe responsibilities for each specific area. New entrants need to be able to rely on the know-how and project skills of their partners and the experts they employ. And for that to happen, a mutual basis built on open communication and the efficient sharing of expertise will need to be established.
It's crucial to keep all team members updated so that everyone can contribute their ideas for improving or developing the product or project. These factors are meant to provide a strong foundation for growth and development.
WHAT COMES AFTER BUILDING UP YOUR AUTOMOTIVE BUSINESS NETWORK?
All of the aforementioned components highlighted are fundamental to realizing an automotive vision so it can reach its full potential on the way to launching the vehicle. That's why it's important to already have a clear vision of the business idea at the very beginning.
Bringing experts into the boat step by step and always being aware of and prepared for the next steps is necessary to secure a continuous workflow. And lastly, a vehicle can only be successful in the market if customer satisfaction with the product is given and if the new entrant keeps customer demands and wishes in mind.
Subscribe Today
Subscribe today to see how we're making the impossible possible by solving some of the industry's most complex problems.
Subscribe Today
Subscribe today to see how we're making the impossible possible by solving some of the industry's most complex problems.
Back to all Articles
Klaus Koppitsch
Klaus Koppitsch is Director of Corporate Development & Strategy at Magna Steyr. Koppitsch joined Magna in 1994 and held several positions in engineering, Marketing and Communications as well as Market Intelligence. He holds a degree in Business Administration and Engineering.