With the rapid emergence of EVs and their predicted increase in market share in Europe, China and the US in the coming years, the time for entering the market has never been better. For some, it may be the perfect opportunity to bring completely new vehicles to this dynamic, interesting, and lucrative market.
While many are poised to spearhead the new trend, however, there are still a number of hurdles for any new player seeking to gain a foothold in the new vehicle market. Particularly when it comes to automotive production facilities, new entrants face two main options: Either they take matters completely into their own hands and establish the necessary production facilities, processes, and workforce independently, or they choose to find a supporting vehicle manufacturing partner.
TABLE OF CONTENTS:
> Requirements for building an automotive factory
> The benefits of vehicle manufacturing partners
> Cooperation with contract manufacturers
> What's next?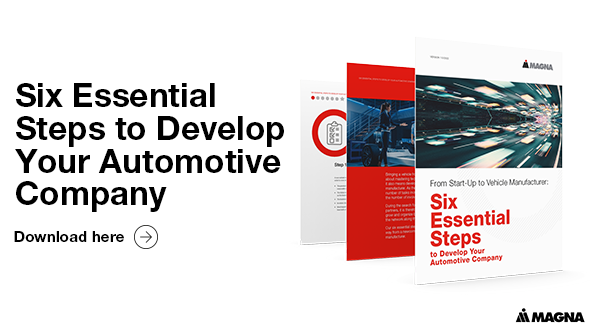 This article will highlight the key characteristics of vehicle and contract manufacturing for new entrants as well as give a general overview of the benefits and potential challenges if choosing this option.
REQUIREMENTS FOR BUILDING AN AUTOMOTIVE FACTORY
The requirements for establishing an automotive production chain can be easily underestimated at first glance. The main reason is that establishing an automotive production ecosystem consists of a multitude of complex tasks with a high degree of sub-tasks and deliverables. In addition, many external factors also must be considered when opting to build a new factory entirely from scratch:
Site selection alone encompasses a plethora of tasks. Firstly, the location should already offer a favorable legal landscape such as the availability of funding programs or a reasonable wage level.The site should also be in a politically stable region.


In addition, legal frameworks in regard to security and quality standards or climate regulations also need to be factored in.


Any site is also heavily dependent on the availability and skillset of a local workforce. Vehicle manufacturing requires a large, trained workforce for numerous fields of expertise. Also, questions regarding working hours, schedules, or employee benefits and sustenance should be be considered.


Suppliers are another key factor of each production site. Ideally, the chosen location should be in proximity of all core suppliers in order to ensure a seamless supply chain and low transport distances from supplier to factory.


The production volume intended does not only impact time-to-market and resource costs, but also the quality and quantity of tools, as well as the general production facilities as a whole. For more information about the importance of production volume, see
"5 Challenges Every Automotive Startup Faces."
Even after a site is chosen, it will take several years until construction is complete and the production itself is ramped up. During these years, the new entrant will need to invest asignificant amount of time and money into establishing and maintaining the facility's construction and organization.
THE BENEFITS OF VEHICLE MANUFACTURING PARTNERS
Partnering with contract manufacturers can effectively allow new entrants to gain access to an already established production site - including an existing skilled workforce and running production and organization processes:
The key benefit of vehicle manufacturing partners is the fact that contract manufacturers not only take over the vehicle production but also the whole process of industrializing the vehicle concept. This includes the conception of the factory, the process and system planning, as well as the control and monitoring of the system installation.


In addition, all production and organizational processes are already set up and tested. This means that new entrants can immediately benefit from fullyproductive facilities with proven processes and standards.


Another important benefit of vehicle manufacturing partners is, that they can provide the entire infrastructure necessary for vehicle production. Partnering usually also enables access to an established production ecosystem. Of course, this also includes all quality, technological and sustainability standards.


Lastly, it will be easier for a new entrant to locate a suitable supply network as they can leverage the existing supply network of their partner.
This allows new entrants not only to focus on building their brand; it also shortens their time-to-market and reduces risks significantly – two factors which might profoundly impact the success of new entrants within the market.
COOPERATING WITH VEHICLE MANUFACTURING PARTNERS
Of course, contract manufacturing does not restrict a new entrant to any specific model of cooperation. Depending on the services a contract manufacturer provides, they may also cooperate on a smaller scale. For example, it is common for new entrants to seek a manufacturing partner for assistance in conducting a feasibility study required at the early concept development phase.

When teaming up with a contract manufacturer, there are some topics that need to be considered in order to ensure a successful cooperation:
It's important to determine the desired allocation of work between the partners upfront. Both parties should know exactly who is responsible for which tasks and who bears responsibility for certain decisions. Read more on this topic in the article "Automotive Development Process: The Optimal Work Split + Free RASI Chart".
Additionally, the new entrant may fear a loss of agency over their own vision. In some instances, a contract manufacturer may impose some restrictions regarding development and manufacturing. This can be an issue for new entrants with particularly unique requirements (e.g., in terms of platforms). Read more on this topic is in the article "Finding the Perfect Partner to Outsource Your Car Production + Your Free Guide!".
It's important to note that the main challenges associated with contract manufacturing typically stem from how thoroughly both parties outline their future relationship and responsibilities. In other words, timely communication and transparency are key to a successful partnership.
WHAT'S NEXT?
Overall, working with a contract manufacturer provides a large number of advantages. New entrants will essentially benefit from the access to the broad scope of automotive know-how including proven processes and standards, infrastructure, and suppliers in vehicle production.

Of course, some risks remain – notably in terms of a good work split and the ownership? of the new entrant over their project. Overall, it is highly recommended to cooperate with a contract manufacturer as they represent a valuable and experienced partner when it comes to realizing an automotive vision, especially with the additional capability of providing product engineering services - a true One-Stop-Shop.
Subscribe Today
Subscribe today to see how we're making the impossible possible by solving some of the industry's most complex problems.
Subscribe Today
Subscribe today to see how we're making the impossible possible by solving some of the industry's most complex problems.
Back to all Articles
Erwin Fandl
Erwin Fandl is Vice President Manufacturing at Magna Steyr since 2019. After joining Magna in 1992, he held several leading positions in Complete Vehicle Manufacturing and Quality Management. He holds a degree in technical engineering from the University of Graz.