E-mobility is in the process of becoming a dominant force in the vehicle market. Knowing about current trends and developments regarding electric vehicles (EVs) is paramount for every new player looking for success in the electric vehicle market.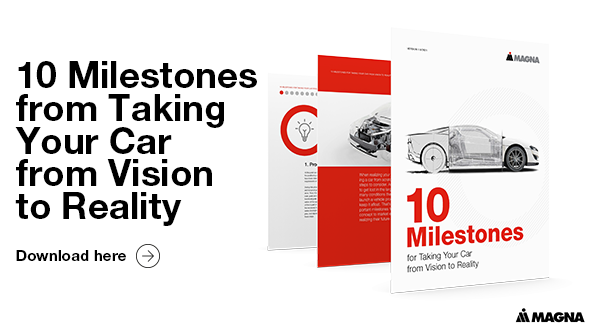 The right timing for e-mobility has come – this is a statement that has become more and more true. The main reasons why electric vehicles have become an attractive and competitive option in the past few years are clear: battery electric vehicles (also known as BEVs) are increasingly becoming cost competitive within current emission standards.
Favorable financial circumstances have been a big stimulus to create awareness and demand for electric vehicles: the fact that more and more countries are providing tax incentives and grants, combined with rising fuel prices and a growing concern about air quality and resource depletion has made the EV market more attractive than ever.

The electric vehicle market booms. This is why many established manufacturers and large automotive brands are shifting their strategies towards electric drives for their own vehicles – especially in passenger cars.
Additionally, this offers the opportunity for numerous new entrants to the automotive world. They often enter the EV market with innovations and niche ideas enriching product variety and providing a continuous motion towards newer and better e-mobility solutions. The electric vehilce market is a competitive environment for sure, but one with constantly growing numbers and ample opportunities for success.

It's this article's goal, to give an overview of the trends in the automotive industry, the growth of the electric vehicle market, EV statistics, and market share.
National Incentives and Zero-emission Policies Set the Stage for a Growing Electric Vehicle Market
National and regional incentives supporting electric vehicles have been implemented in numerous countries around the world. CO2-emission standards, zero emission vehicle mandates, and (partial) bans of combustion engine vehicles as well as an increased spending in EV infrastructure and funding for EV manufacturing all facilitate the rapid development of the electric vehicle market.
Particularly in Europe and China, and also in the USA, e-mobility continues its rapid growth in part thanks to such support measures.
With regard to CO2 emission targets, such as the EU's and Chinas long-term goals to achieve net-zero greenhouse emissions by 2050 and 2060 respectively, the transportation sector will need to change drastically over the next few decades.
The Global EV market Outlook 2021 determines that more than 20 individual countries have electrification targets or bans for internal combustion engines, and eight countries plus the European Union have announced net-zero pledges. Current market figures already show a rapid incline in market shares and sales; a trend that will presumably continue at its current fast pace.
The Electric Vehicle Market is Growing: The Market Share of Electric Vehicles is Expected to Rise to over 35% by 2030
First, there's one big question to ask: what percentage of cars are electric? According to the IEA's Global EV Data Explorer in 2020, global electric vehicle sales were reported at 5% – it's anticipated that this number will increase to over 35% in 2030.
Global market shares are expected to increase rapidly, especially in Europe and China, but to a lesser degree in the US. A total of 12 million EVs were in use globally in 2020 with all numbers continuing to show exponential growth (Global EV Outlook 2021).
In addition, there's a definitive increase in the amount of money being spent on electric cars, especially by consumers. The numbers from the Global EV market Outlook 2021 show that in the last two years alone there's been an impressive increase: while in 2018 consumers spent around 70 billion USD on electric vehicles, this number has risen to 120 billion USD in 2020.

China has established itself as the biggest market for e-mobility. However, it's more difficult for new entrants from abroad to gain a foothold in the strong centralized Chinese market.

Generally though, the EV markets in North America, Europe, and China currently show the most potential. Other regions, such as India and Africa, have not yet reached significant numbers to make investments advantageous and thus their development needs further monitoring in the upcoming years.
Old and New Players can Establish Themselves in the EV Market
Most notably, BEVs are experiencing a massive broadening of available models, including a variety of SUVs and commercial vehicles. These models are being developed by both OEMs trying to adapt to market developments as well as new entrants who plan on establishing themselves as major players in the emerging market.

Especially during the last few years, the push towards e-mobility has become even stronger, as big automotive manufactures have started to seriously invest in e-mobility. They are not only investing in their own new technologies, but also acquiring and financing promising start-ups that pursue innovative ideas in terms of e-mobility. It's an active strategy to attract new customers, gain more market shares, and establish themselves in the market earlier.
In 15-20 Years, Electric Vehicles are Likely to Become the Dominant Transportation Method
One key factor in this exponential rise in popularity of the electronic vehicle market is that high-voltage batteries have recently become significantly cheaper. Only five years ago, they were three times as expensive to produce as they are today.
Furthermore, maximum driving ranges of electric vehicles could not compete with combustion engines up until five years ago. Nowadays, with the expansion of charging infrastructure, electric cars are becoming more and more competitive with the range of combustion engines and can already reliably replace them in most short-to-medium-distance uses.

Since consumer spending and market shares of EV are estimated to continue to grow significantly and in accordance with national policies, it can be expected that the electric drives will replace combustion engines in approx. 10-20 years, at least in Europe and potentially China. While most EVs are passenger cars, market niches can still be found – there's a lot of potential and possible scope for further applications.

Most importantly: before planning market strategies and the implementation of the vehicle, it's vital to gather all the information available about the market one plans to enter beforehand.
You Have Decided To Enter The Electronic Vehicle Market? What's Next?
Knowing about the EV market in general is only the foundation for realizing an automotive vision. New entrants planning to enter and potentially establishing themselves within the EV market need to know exactly what the vision for the product is and what the market in which they wish to sell it looks like.
It's recommended to conduct a large-scale market study containing an analysis of competitors, brand positioning, vehicle performance and pricing, and a forecast of sales volumes as a basis for any further development of the vehicle. The reason for this is to have a solid business model that incorporates organizational matters, the acquired knowledge and data, and the specifics of the vision for the planned vehicle.
No matter which country the new automaker wants to focus on or what the vehicle specifics should look like, now is the time to start. Because even five years from now, the electric vehicle market will be on a completely different level of competition. The rapid growth of the EV market participants and rising sales numbers speak volumes about the future of the electric drive.
References:
- Global EV Data Explorer, IEA, 2020
- Global EV Outlook, IEA, 2021