In the following article, new entrants wondering about "how long does it take to build a car" will get some answers. If you are looking for efficient ways to develop your car without compromising on quality or spending too much time and money you will find a few basics on how long it takes to build a car and how to gain the fastest vehicle development and production.
TABLE OF CONTENTS:
> How long does it take to build a car? Team up with experienced manufacturers to be faster!
> Don't prioritize an early launch over a well-planned launch!
> How long does it take to build a car? Speed the process up by sharing capacities!
> Consider a shared platform
> Implement multiple vehicles in your planning
> What's next?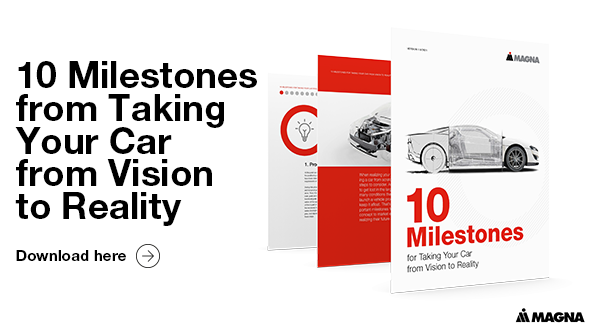 It goes without saying that building a car from scratch is a complex, time-consuming, and cost-intensive undertaking. There are numerous factors to be considered well in advance of the vehicle's successful market entry, including the used components, the production site, engineering and manufacturing teams, and of course, the most efficient ways of implementation. If you are asking yourself the question:
"How long does it take to build a car?",
a lot of things have to be consided .
How Long Does It Take to Build a Car?
Team up With Experienced Manufacturers to be faster!
Contract manufacturers support new entrants on the vehicle market by providing them with technical know-how and manufacturing facilities – all, so they can bring their vision to the road on the fastest way. In addition, engineering service providers lend their development capacities as support.
Both facilitate connections to suppliers (and sometimes investors) and thus help new entrants to establish themselves in the electric market. However, only a few can serve as a true one-stop shop, providing both engineering and manufacturing assets.

The biggest cost factor in automotive production is the production facility itself – particularly the construction and commissioning of a high-performance paint shop. The costs for system development suppliers providing engine, steering, and brakes as well as increasingly complex electronic systems (EE systems and components) should not be underestimated either.
Lastly, a new entrant needs to provide:
a core development and project steering team, which will stand at the center of the complete vehicle concept
development
and production process, which, of course, also requires financial resources to establish and maintain.
With several other factors (e.g. the creation of suitable sales and after-sales networks) further increasing the new entrant's financial burden, cooperating with an engineering service provider greatly reduces the overall cost and time requirements of manufacturing and developing a vehicle.
Don't Prioritize an Early Launch over a Well-planned Launch!
Automakers are keen on getting their vehicle on the road as soon as possible. Some even want it on the market before anyone else. However, by persistently focusing on minimizing time-to-market in order to boost sales as soon as possible, the time required for certain processes of the project to fully get into motion may be missing.
For example, although an after-sales network is not actively in use before the product launch, establishing such a network still requires preparation time that has to be planned before launch. Thus, it's important to know which tasks are necessary for ensuring the project's success, where the schedule can be optimized, and which processes should be executed as specified.
Subscribe Today
Subscribe today to see how we're making the impossible possible by solving some of the industry's most complex problems.
Subscribe Today
Subscribe today to see how we're making the impossible possible by solving some of the industry's most complex problems.
Back to all Articles
Mathias Funder
Mathias Funder is Senior Director Engineering & Sales at Magna Steyr. Funder joined Magna in 2009 and held several international positions as Program Manager, Technical Board Assistant and Director of Global Quotations Engineering. He holds a degree in International Business.