This article will help you take the first steps in the right direction if you wish to find out about how to produce a car: from important aspects to consider beforehand regarding the current situation on the EV market to the first steps in establishing your new automotive company in the industry.
TABLE OF CONTENTS:
> 5 vital considerations before realizing your automotive visions
> The electric vehicle market and why you should enter it right now!
> The fastest way to get your vehicle on the road
> The key components of your future automotive network
> 5 questions every vehicle development and production partner will ask
> The feasibility study: 4 steps that validate your vision as a viable endeavor
> How a show car will empower your electric vehicle vision
> Conclusion
The world is changing – and so is the automotive industry. Global megatrends such as sustainability, digitalization, and urbanization challenge the ways we think about mobility and the way how to produce a car.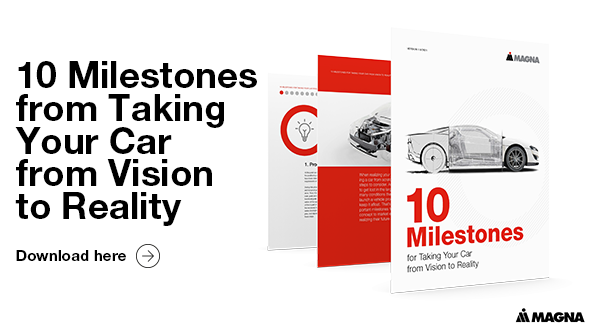 However, as vehicles become increasingly electric and software-driven, this is also an opportunity for new players to enter the market and produce a car.
Are you considering producing your own car, but are unsure when and how to get started? Are you looking for the answers to your questions about how to develop a car?
As automobiles are considered the most technologically complex mass product, it is easy for new players to get lost in the shuffle because of the immense complexity of the undertaking.
However, let's say it in advance, if you want to enter the automotive industry with a unique electric vehicle, now is the best time to do it!
CHAPTER 1: 5 VITAL CONSIDERATIONS BEFORE REALIZING YOUR AUTOMOTIVE VISIONS
With an expected growth of market shares, a rapidly increasing amount of competitors, and both large public interest and national incentives, the electric vehicle market (or EV market) is developing at an astonishing speed. Few other market segments are expected to experience this level of growth, and it gives the impression that electric vehicles will not just stay relevant but continue to increase in size and variety and dominate the vehicle market in the years to come. Of course, this development has already caught the interest of numerous players – start-ups and established companies alike – who now seek to participate in obtaining their own share within the EV market.

However, just because the EV market has only recently emerged, this doesn't mean that success is guaranteed. Before considering to join the market, it is important to get an understanding of the complexity of the EV market, vehicle development, and starting an EV production. The following five considerations will give new players an idea what to expect in the market.
Consideration 1: The Market for Electric Vehicles is Extremely Contested
Rising awareness about resource depletion and climate change, changing legal requirements as well as scientific developments towards greater efficiency, profitability, and affordability are expected to hasten the rapid increase in EV market shares. By 2030, it's estimated that EVs will possess a global market share of 35% – by 2040, they will probably overtake combustion engines as the dominant form of transportation, especially in Europe and China.
Consideration 2: Without a Clear Product Vision, Success in the Market is Impossible
Simply building an electric vehicle is not enough to succeed in the EV market. It's important that the car has a clear purpose – not only being another vehicle, but a distinct product within its own category. This, of course, is also reflected in the product vision unless one clearly knows what the vehicle should represent, why it stands out, and for what reason any potential customer or partner should be interested in both the vehicle and the brand itself.
Depending on the vision, a vehicle can have multiple Unique Selling Points (USPs), like a powerful battery allowing it to travel longer distances or whether it covers a specific customer demand, such as being an E-SUV or having last-mile transport solutions. The playing field is rather wide, so one can (and should) carefully choose the features and benefits the vehicle has.
Another often-overlooked aspect is, of course, the environment one intends to sell in. Does the environment possess the required infrastructure for the vehicle? Is the vision technologically feasible? Is there even a demand on the market for the USP in the first place? It's fundamental to analyze the potential market thoroughly before fixating on the product vision – the more exhaustive the market studies are, the more likely one will find a suitable segment in which the idea may succeed. So keep in mind that conducting market studies is a vital step for every contestant to make.
Consideration 3: Partners Will Not Support an Idea Without the Facts to Back it
Another reason for conducting a large-scale market study before entering the market is credibility. Many new entrant do not yet have the environment necessary for conceptualizing, developing, manufacturing, and selling a vehicle. And unless they intend to go the expensive and time-consuming route of providing everything by themselves, they need investors and partners in development/production to support their endeavor.

However, no investor or partner will risk pouring their resources, time, credibility, and finances into a project that Is not fully thought through and solely relies on personal conviction. New entrants will need to prove that the market actually demands their product and that it has enough potential to compete with established players – and they will need to prove this via verifiable studies, conductive research, and expertise. In addition, they will also need to provide proof that they can organize the necessary environment for vehicle development. Potential partners, investors, and supply networks for their vision as well as an estimation of time and resource demands should also be considered when pitching a vision to potential partners.
Consideration 4: Regardless of Your Background, You are a New Player in the EV-Market
Whether the company stems from 100 years of experience in a different market or has just been founded yesterday, a new entrant in the EV market will always start from scratch. When pitching the ideas to future partners, investors, and/or suppliers, the new entrant will also present the brand as an emerging player in a sector that has only properly established itself about 5-10 years ago. As such, they will also need to prove their worth as an EV manufacturer whenever they present their vision.

If the new entrant is completely new to the business world altogether, one has to keep in mind that both a financial cushion and time are essential in order to even reach the starting line. Setting up a team and doing market studies can be fairly expensive upfront. This is arguably the highest hurdle for every new entrant to overcome, but with competent planning, commitment, and a certain degree of boldness and risk-taking, one will be well prepared to enter the market.
Consideration 5: Use the Potential – It's Now or Never!
E-mobility is here to stay, and with many players already positioning themselves as competitors within the market, the window of opportunity grows smaller by the day. And while some unresolved questions regarding EVs still remain – notably the high resource and finance demands of manufacturing batteries or comparatively long development times – these factors are not the only ones to consider when considering the right time to enter the market. Because the right time is now! E-mobility will only be integrated further into more and more segments of the vehicle market, and in 20-30 years at most they will likely replace combustion engines as the dominant type of vehicle globally(2). Right now, a new entrant will enter a market that is still in the process of consolidating itself, and there's still ample opportunity to get established as a recognized name in the EV business.
1: Read more: The electric vehicle market and why you should enter it right now!
CHAPTER 2: THE ELECTRIC VEHICLE MARKET AND WHY YOU SHOULD ENTER IT RIGHT NOW!
E-mobility is in the process of becoming a dominant force in the vehicle market. Knowing about current trends and developments regarding electric vehicles (EVs) is paramount for every new player looking for success in the market.

The right timing for e-mobility has come – this is a statement that has become more and more true. The main reasons why electric vehicles have become an attractive and competitive option in the past few years are clear: battery electric vehicles (also known as BEVs) are increasingly becoming cost competitive within current emission standards.

Favorable financial circumstances have been a big stimulus to create awareness and demand for electric vehicles: the fact that more and more countries are providing tax incentives and grants, combined with rising fuel prices and a growing concern about air quality and resource depletion has made e-mobility more attractive than ever.

This is why many established manufacturers and large automotive brands are shifting their strategies towards electric drives for their own vehicles – especially in passenger cars. Additionally, this offers the opportunity for numerous new entrants to the automotive world who often enter the EV market with innovations and niche ideas enriching product variety and providing a continuous motion towards newer and better e-mobility solutions. It's a competitive environment for sure, but one with constantly growing numbers and ample opportunities for success.

It's this article's goal, to give an overview of the trends in the automotive industry, the growth of the electric vehicle market, EV statistics, and market share. As well as to explain how to produce a car you have in mind.
National Incentives and Zero-emission Policies Set the Stage for a Growing Electric Vehicle Market
National and regional incentives supporting electric vehicles have been implemented in numerous countries around the world. CO2-emission standards, zero emission vehicle mandates, and (partial) bans of combustion engine vehicles as well as an increased spending in EV infrastructure and funding for EV manufacturing all facilitate the rapid development of the electric vehicle market. Particularly in Europe and China, and also in the USA, e-mobility continues its rapid growth in part thanks to such support measures.

With regard to CO2 emission targets, such as the EU's and Chinas long-term goals to achieve net-zero greenhouse emissions by 2050 and 2060 respectively, the transportation sector will need to change drastically over the next few decades. The Global EV Outlook 2021 determines that more than 20 individual countries have electrification targets or bans for internal combustion engines, and eight countries plus the European Union have announced net-zero pledges. Current market figures already show a rapid incline in market shares and sales; a trend that will presumably continue at its current fast pace.
The Market Share of Electric Vehicles is Expected to Rise to over 35% by 2030
First, there's one big question to ask: what percentage of cars are electric? According to the IEA's Global EV Data Explorer in 2020, global electric vehicle sales were reported at 5% – it's anticipated that this number will increase to over 35% in 2030. Global market shares are expected to increase rapidly, especially in Europe and China, but to a lesser degree in the US. A total of 12 million EVs were in use globally in 2020 with all numbers continuing to show exponential growth (Global EV Outlook 2021).
In addition, there's a definitive increase in the amount of money being spent on electric cars, especially by consumers. The numbers from the Global EV Outlook 2021 show that in the last two years alone there's been an impressive increase: while in 2018 consumers spent around 70 billion USD on electric vehicles, this number has risen to 120 billion USD in 2020.

China has established itself as the biggest market for e-mobility. However, it's more difficult for new entrants from abroad to gain a foothold in the strong centralized Chinese market.

Generally though, the EV markets in North America, Europe, and China currently show the most potential. Other regions, such as India and Africa, have not yet reached significant numbers to make investments advantageous and thus their development needs further monitoring in the
upcoming years.
Old and New Players can Establish Themselves in the Market
Most notably, BEVs are experiencing a massive broadening of available models, including a variety of SUVs and commercial vehicles. These models are being developed by both OEMs trying to adapt to market developments as well as new entrants who plan on establishing themselves as major players in the emerging market.

Especially during the last few years, the push towards e-mobility has become even stronger, as big automotive manufactures have started to seriously invest in e-mobility. They are not only investing in their own new technologies, but also acquiring and financing promising start-ups that pursue innovative ideas in terms of e-mobility. It's an active strategy to attract new customers, gain more market shares, and establish themselves in the market earlier.
In 15-20 Years, Electric Vehicles are Likely to Become the Dominant Transportation Method
One key factor in this exponential rise in popularity of electric vehicles is that high-voltage batteries have recently become significantly cheaper. Only five years ago, they were three times as expensive to produce as they are today. Furthermore, maximum driving ranges of electric vehicles could not compete with combustion engines up until five years ago. Nowadays, with the expansion of charging infrastructure, electric cars are becoming more and more competitive with the range of combustion engines and can already reliably replace them in most short-to-medium-distance uses.

Since consumer spending and market shares of EV are estimated to continue to grow significantly and in accordance with national policies, it can be expected that the electric drives will replace combustion engines in approx. 10-20 years, at least in Europe and potentially China. While most EVs are passenger cars, market niches can still be found – there's a lot of potential and possible scope for further applications.

Most importantly: before planning market strategies and the implementation of the vehicle, it's vital to gather all the information available about the market one plans to enter beforehand.
What's Next?
Knowing about the EV market in general is only the foundation for realizing an automotive vision. New entrants planning to enter and potentially establishing themselves within the EV market need to know exactly what the vision for the product is and what the market in which they wish to sell it looks like. It's recommended to conduct a large-scale market study containing an analysis of competitors, brand positioning, vehicle performance and pricing, and a forecast of sales volumes as a basis for any further development of the vehicle.
The reason for this is to have a solid business model that incorporates organizational matters, the acquired knowledge and data, and the specifics of the vision for the planned vehicle. No matter which country the new automaker wants to focus on or what the vehicle specifics should look like, now is the time to start. Because even five years from now, the electric vehicle market will be on a completely different level of competition. The rapid growth of market participants and rising sales numbers speak volumes about the future of the electric drive.
CHAPTER 3: THE FASTEST WAY TO GET YOUR VEHICLE ON THE ROAD
It goes without saying that building a car from scratch is a complex, time-consuming, and cost-intensive undertaking. There are numerous factors to be considered well in advance of the vehicle's successful market entry, including the used components, the production site, engineering and manufacturing teams, and of course, the most efficient ways of implementation.

In the following article, new entrants looking for efficient ways to develop their car without compromising on quality or spending too much time and money will find a few basics on how to make their entry into the market considerably easier.
Team up With Experienced Manufacturers
Contract manufacturers support new entrants on the vehicle market by providing them with technical know-how and manufacturing facilities – all, so they can bring their vision to the road. In addition, engineering service providers lend their development capacities as support. Both facilitate connections to suppliers (and sometimes investors) and thus help new entrants to establish themselves in the electric market. However, only a few can serve as a true one-stop shop, providing both engineering and manufacturing assets.

The biggest cost factor in automotive production is the production facility itself – particularly the construction and commissioning of a high-performance paint shop. The costs for system development suppliers providing engine, steering, and brakes as well as increasingly complex electronic systems (EE systems and components) should not be underestimated either. Lastly, a new entrant needs to provide a core development and project steering team, which will stand at the center of the complete vehicle concept, development, and production process, which, of course, also requires financial resources to establish and maintain. With several other factors (e.g. the creation of suitable sales and after-sales networks) further increasing the new entrant's financial burden, cooperating with an engineering service provider greatly reduces the overall cost requirements of manufacturing and developing a vehicle.
Don't Prioritize an Early Launch over a Well-planned Launch
Automakers are keen on getting their vehicle on the road as soon as possible. Some even want it on the market before anyone else. However, by persistently focusing on minimizing time-to-market in order to boost sales as soon as possible, the time required for certain processes of the project to fully get into motion may be missing. For example, although an after-sales network is not actively in use before the product launch, establishing such a network still requires preparation time that has to be planned before launch. Thus, it's important to know which tasks are necessary for ensuring the project's success, where the schedule can be optimized, and which processes should be executed as specified.
The Benefits of Sharing Capacities
Assuming a completely new development and a new plant are needed, it will take several years and at least ten-digit amount of money to bring a new vehicle to the market from scratch. On top of that, a large part of the costs is already incurred after about 1.5 years, but the return (i.e., the cash flow from vehicle sales) only comes into play after the start of production. And while there's ample reason to construct completely new production facilities, the short-term costs far outweigh the long-term benefits of such a decision; for new entrants in particular. Increasing costs at the earliest stage will heighten the risk of failure before the long-term benefits are even relevant.

Sharing capacities and resorting to an established partner who can provide facilities, teams, and experience alike (as well as an established network of suppliers and manufacturers) considerably reduces the financial burden during this critical preparation time. By dramatically reducing the largest cost factors in vehicle development, sharing capacities will not only speed up the process itself by several months, but also allows for a notably faster evening out of the net losses.
Consider a Shared Platform
The vehicle platform is the structual basis of a vehicle and usually includes the rolling chassis, engine, and - for electric vehicles - battery as well as the high-voltage architecture and large parts of the low-voltage architecture
of a vehicle.

While licensing an existing platform poses certain limitations in terms of technical freedom, this usually comes with a considerable decrease in time-to-market and development cost. These platforms have been developed by experienced specialists and tested and industrialized on many vehicle derivatives over the years. Licensing a platform avoids the high non-recurring costs that occur when designing platforms from scratch within a limited timeframe and with a lack of previous experience. Depending of the exact license specifications, a platform can also be customized further in order to match the licensee's automotive visions. Because a platform license largely covers all invisible parts of a vehicle, the customization of brand specific parts (e.g., outer panels, HMI, interior trim) is quite common.

Using a shared platform allows a notable reduction on the development time required on components that have already proven to be efficient for other vehicle brands. A shared platform is also already connected to an established supplier network – a benefit which also carries over to the development of subsequent vehicles.
Implement Multiple Vehicles in Your Planning
Developing multiple vehicles on the same platform is usually considerably less time- and cost-demanding, as many elements of the previous vehicle development can be reused. Because a vehicle platform is generally considered contemporary for several years, it can serve as basis for further derivatives of the initially-developed vehicle. Thus, it makes sense to consider the development of multiple vehicle variants very early in the project phase. It's commonplace for vehicle developers to plan multiple variants of a vehicle with the same platform in use, and particularly for new entrants, this strategy benefits their successful market entry by utilizing the available resources in an efficient manner.
What's Next?
All these approaches have their merits in helping you achieve your automotive vision while also reducing the amount of time and resources needed. Nonetheless, there are still multiple tasks a new entrant must manage themselves: laying out a clear idea of the product and the market it's supposed to perform in, securing investors, a supply chain, after-sales management, marketing staff and of course their own core team. But by implementing smart decisions and focusing on which tasks can be relayed efficiently, development time and costs of a vehicle can be reduced considerably.

The success of vehicle development also depends on several external factors. From the target market, investors, and production partners up to the entities within the future supply chain, realizing an automotive vision can only happen within a suitable ecosystem. That is the topic of the next chapter.
CHAPTER 4: THE KEY COMPONENTS OF YOUR FUTURE AUTOMOTIVE NETWORK
When planning to start an automotive business and launching a new vehicle, an automotive network will be one of the first things to consider. The development and production of a vehicle requires a vast range of resources, connections, manpower, and experts that excel in their respective areas of responsibility.
Each and every part of this ecosystem is necessary to successfully stay on course throughout the whole project; beginning with the idea stage, up until the product launch and after-sales stage. There are basically two types of distinct systems that are meant when talking about establishing an automotive network: the structural elements of management and the operational systems of product development. Both are equally important for the success of the project.
First: Structural Elements of Management
When developing a vehicle, most new entrants specify their product idea first. However, in order for a product idea to be fully realized, it has to be integrated into a larger system of management and communication processes that the new entrant needs to establish. These processes are clustered into four larger elements, all of which can only be established via simultaneus engineering – meaning that the new entrant has to erect the entire network at once.
The first of these four structural elements encompasses the basic business model that will serve as the structural basis for the later automotive business and brand. Building the business model requires having an overview of all relevant business processes, an outline of the respective business case, and the necessary knowledge about the target market, including an assessment of the potential market share.

The second element pertains to the future marketing and branding strategy for the vehicle. These are the key systems for establishing a connection between a new entrant and their customers, stakeholders, partners, and investors, as they essentially define how the vehicle will be communicated. Developing a marketing and branding strategy includes the definition of a name and USP (Unique Selling Point) for the brand and subsequent communication to the public. In essence, this element answers one question: What exactly does the buyer get when he/she purchases the product? It's also worth noting that the cost requirements for these two systems are commonly underestimated.
The third element pertains to the management of investors. It's important to remember that every automotive business needs a large amount of capital is right from the start; especially new entrants. A new vehicle developer has to be able to describe their vision
so transparently and convincingly that investors will want to get involved. And not only will they want to see a clear product vision and brand identity, they'll want to see a business case and a realistic plan for the project as well. Establishing a network of investors is certainly a big milestone to reach and needs preparation and conviction.
The fourth of these elements includes distribution and after-sales. As soon as the vehicle enters the market, customer and product support become imperative. However, sales, maintenance, servicing, and so on must all be taken into account right from the start of the project, as many partnerships involved in these systems (garages, workshops, etc.) need time to prepare. Additionally, knowledge of the potential and (later on) existing customer base needs to be evaluated; a task which requires the inception of a sales network in order to acquire new customers, open up new markets, and keep existing customers happy.
Second: Operational Systems of Product Development
In product management and product development, the vehicle and its properties are defined in such a way that they reflect the brand's values, unique features, and entrepreneurial ideas. These factors function as the basis for the requirement specification book and, therefore, the future vehicle. That's why, in order to be successful in establishing the operational systems of product development, it's important to have a prior understanding of framework, market conditions, challenges, how to determine benchmarks, product specifications, and so on.
Establishing those systems requires experience, competence in the field, and lots of work and determination.
Another fundamental keyword is supply chain management. This largely determines the costs of a vehicle. That's why you have to ensure the stability of your supply chain from the very beginning so that the products are delivered with the right quality and at the right price and time. It's a continuous team effort to keep supplier relations running well and ensure the correct prices and supply framework necessary for constant, high-quality automotive production.
All these systems are then followed by production – a complex and resource-consuming matter that needs to function perfectly in collaboration with product development and industrialization. In general, these systems can be outsourced to experienced companies and manufacturers. Doing so offers many benefits; mainly because there's already a lot of resources and important connections on hand.
The Challenge of Starting Right and Seeing it Through
Setting off into a new field of business isn't easy. Even the most basic things can trip up new entrants on their way on the market. All the systems mentioned above have to be started and kept running in parallel. Automotive business relies on this type of simultaneous engineering. It's not a linear implementation of steps, but rather the synchronous establishment of an interconnected network.

Starting an automotive business and getting the vehicle on the street demands entrepreneurial courage as well as clear processes and procedures that precisely describe responsibilities for each specific area. New entrants need to be able to rely on the know-how and project skills of their partners and the experts they employ. And for that to happen, a mutual basis built on open communication and the efficient sharing of expertise will need to be established. It's crucial to keep all team members updated so that everyone can contribute their ideas for improving or developing the product or project. These factors are meant to provide a strong foundation for growth and development.
What's Next?
All of the aforementioned components highlighted are fundamental to realizing an automotive vision so it can reach its full potential on the way to launching the vehicle. That's why it's important to already have a clear vision of the business idea at the very beginning. Bringing experts into the boat step by step and always being aware of and prepared for the next steps is necessary to secure a continuous workflow. And lastly, a vehicle can only be successful in the market if customer satisfaction with the product is given and if the new entrant keeps customer demands and wishes in mind.
CHAPTER 5: 5 Questions Every Vehicle Development and Production Partner Will Ask
When establishing the ecosystem for developing an EV, it's vital to find suitable vehicle development and production partners who lend support in executing and solving the technical aspects of the project. At the same time, however, it's also important to remember that manufacturers will not simply cooperate with anybody asking for their support.
Both parties are usually unknown to one another, so the manufacturer needs to get an understanding of the new entrant, their organizational structure, and their vision before they can determine if a cooperation will be beneficial for both parties. As such, they will have a number of key questions for any new entrant who pitches their idea to them.
Question 1: How Do You Plan to Finance Your Vehicles?
The average cost required to get a vehicle onto the road is very high. Even with the most cost-efficient routes available, such an endeavor still requires a large sum of money on the part of the new entrant and they won't be in the black for at few years; at least until sales outperform the costs of development.
As such, it's absolutely vital to not only have the necessary finances available in order to start the development process, but to also have a plan for how to handle the financial situation in the upcoming years. Thus, it's important for new entrants to have a clear idea of their currently available resources, of how much money they will need in order to bring their vision to fruition, and of the investors they intend to bring on board (in the perfect scenario, these investors would have already approved the project). Without a realistic and thought-out finance plan that takes several years into consideration, potential partners will likely decline to take the risk.
Question 2: In Which Market Do You Wish to Sell Your Vehicle?
As mentioned in previous articles, a conductive market study is an important basis for any new entrant seeking to compete in the EV market. Of course, this also means that any partner will expect their potential partner to have comprehensive knowledge about the market they want to compete in and their target audience: competitors, trends, developments;
How do you expect to perform in the market?
What sales figures do you want to achieve in what timespan?
At what pricing do you intend to sell your vehicle?
All of these questions should be answered by the time the search for manufacturing partners starts. And after the project pitch, the partner should know the answer to all of these questions as well.
Question 3: What Suppliers Do You Have in Mind?
Aside from finances, establishing a network of automotive part suppliers will also be necessary for any vehicle's successful market launch. Potential partners will want to know about the intended suppliers and the current state of their cooperation: Which suppliers are you already in contact with? Will they agree to a partnership?
The manufacturer may also need information regarding the pricing of said parts. If that knowlegde is not available, then a strategy for obtaining the necessary data should be presented instead.

Of course, these questions also cover all of the new entrant's plans for the soon-to-be-established vendor network. Any new player seeking partnership should be able to indicate which vendors they have in mind. In addition, they should also have an idea of their intended suppliers' pricing.
Question 4: How Do You Plan to Move Forward Once a Partnership Has Been Established?
Successfully finding development and production partners is only the first step towards getting a vehicle on the road. As mentioned before, it's also necessary to have an approximate timeframe in mind. Of course, depending on the specifics, the time needed to develop a car can vary, but if the automotive suppliers, investors, and some technical insights on the car's development are known, providing a comprehensive and detailed schedule to partners will be easy to do.
There are, of course, certain time frames and numbers that the new entrant will not be able to provide. That information requires the knowledge and insight of the manufacturing partner, which the new entrant may also request in order to finalize their schedule.
Question 5: Are You a Reliable Partner?
Even the best pitch will not result in a fruitful cooperation if one key ingredient is missing: a common level of reliability and cooperation. It's important that both the new entrant and the development and production partner establish a degree of trust with one another because developing a vehicle requires tremendous organizational abilities and a high degree of diligence.
This, of course, also extends to investors, suppliers, and other partners. For every successful cooperation, a sense of mutual reliability is the key foundation every lasting partnership should be built upon.
What's Next?
After a development and production partner has been successfully brought on board, the infrastructure as well as the technical expertise and insight required to produce a vehicle are finally available to the new entrant. Both will prove vital in continuing with the next, and possibly most comprehensive aspect of bringing a vehicle from the whiteboard to the road.
CHAPTER 6: THE FEASIBILITY STUDY: 4 STEPS THAT VALIDATE YOUR VISION AS A VIABLE ENDEAVOR
Until now, most steps we discussed within the vehicle development process have been about the acquisition of both the information and set pieces required upfront. Accordingly, the theoretical framework for realizing the vehicle is already established. However, the question of whether the vehicle actually CAN be realized within all of limitations of the market, ecosystem, and personal wishes of the new entrant has yet to be answered.

This is where the feasibility study comes into play! But what is a feasibility study? How is it conducted? And what data is most important? The following article gives an overview regarding the most crucial steps of conducting a feasibility study for an automotive project.
A Definitive Blueprint for Your Project
Usually conducted as a joint effort between the new entrant and their development and production partner, the feasibility study is the centerpiece of all previous preparatory work. It provides a decisive answer to whether the automotive vision in question is, from a technical as well as commercial perspective, a realistic endeavor. As an objective measuring tool, the feasibility study serves as a complete and definitive overview of all technical and commercial requirements within one concentrated document.
The feasibility study is a vital prerequisite for reaching the first milestone of the vehicle development process. Thus, it's important to start, execute, and conclude it before the concept phase is initiated. A feasibility study benefits new entrants in many additional ways, since it also gives them a complete catalogue of all the tasks and risks of their product vision and serves as a guarantee for potential partners/investors, showing them that the project is worth the money and the potential risk of investment.
Conducting a feasibility study will take a few months to complete depending on the scale of your project and will require a substantial amount of money. In respect to the entire cost of developing a vehicle and the value of the study for the project, this a small but immensely expedient expense.

While a feasibility study encompasses a multitude of smaller and larger tasks, those can be generally clustered into 4 big steps:
Step 1: Confirming The Validity of Your Vision
Before starting with the specific business fields of vehicle development, the product vision will be the first factor to be validated. This encompasses all questions regarding the target market of the vehicle, the ecosystem chosen to develop it in as well as the unique selling point, technical specifications, features, and vehicle variants to be implemented. These will be specified once again and then organized and assessed within the greater development process.
Step 2: Defining Development Targets and Potential Conflicts
In general, there are five major fields to consider in the vehicle project: development, production, the supply chain (also including the determination of key suppliers), product distribution, and after-sales management. Strategies will be determined for these fields and then converted into product targets (objectives and deliverables based on the evaluation of benchmark vehicles) and technical programs (the measures planned in order to reach those objectives). By contrasting these two aspects with each other, potential risk factors and target conflicts can be discovered and solutions for said conflicts can be specified.
Step 3: Determining Technical Specifications for the Base Vehicle
A description of the specifications of the vehicle itself can now be defined based on the previous findings. Those specifications include: the BOM (bill of materials), planned features, styling, and overall layout. After completion of this phase, the first testable prototype (a so-called "mule") can be developed – a hardware plan with all principal hardware required to properly test the prototype is also included within this step. This process is executed in tandem for each planned vehicle variant respectively.
Step 4: Finalizing Planning and Strategies
After every strategy, requirement, deliverable, risk, and solution has been highlighted, the determined timing plans for each business field will be coordinated with and integrated into the greater project schedule. Additionally, a project organization plan for the following concept phase, including technical risks and opportunities of the project, will be created. Finally, the necessary quality planning and a business and finance plan with a detailed estimate of program costs will be provided and changes/potential improvements will be discussed until all involved parties reach a satisfying consensus and the feasibility phase can come to a close.
What's Next?
With the conclusion of the feasibility study, the first large phase of developing a vehicle is dealt with. Now that the product vision has finally and definitely been confirmed, all that's left to do before the start of the concept phase is to plan the public unveiling of the vehicle via a show car and the definition and establishment of the brand it will be representing.
CHAPTER 7: HOW A SHOW CAR WILL EMPOWER YOUR ELECTRIC VEHICLE VISION
Establishing a clear brand identity and planning the public debut of any vehicle happens towards the end of the early concept stage once sufficient validation for the vision exists. For new entrants, the initial debut on the EV market is vital in setting the stage for a successful product launch.
Thus, the first unveiling of their brand and vehicle should be treated as a a vital stepping stone towards bringing their vision to the road. And for this vision to not only exist on paper, utilizing a show car ensures that both the vehicle and its history are presented in a tangible manner.
Every Vision has a Story to Tell
Communicating a future automotive brand is a step new entrants will have to take sooner or later. Therefore, it's wise to do so as soon as possible, as the public release of a vehicle will still take about 2-3 years. By that time, the vehicle should already be publicly known because it will need to garner brand recognition and trust from the intended target audience to ensure they actively seek out the electric vehicle at launch.

Luckily, there's no need for the vehicle to be finished in order to promote it. Creating a story to accompany the product vision, forming a success story out of the journey, and emphasizing the unique und recognizable assets of both the vehicle itself and its brand will allow for the efficient formation of a clear, communicable brand identity.
The Show Car: A Representation of your Vision
Of course, in order to really fire people up about an upcoming electric vehicle, showing them an actual car will greatly help with garnering that enthusiasm. For this reason, a show car is commonly used in tandem with brand debuts.

As its name implies, a show car essentially serves to show what makes a vehicle stand out among the rest. It's a design-oriented vehicle that highlights the planned features and styling of a vehicle and is, therefore, specifically used for presenting everything the vehicle has been made out to be, the vehicle is set out to be. The show car presents its underlying product vision to investors, buyers, and journalists alike in a convincing and "real" fashion – it's a must-have for every planned public debut.

In general, it's recommended to start planning a show car around the same time the feasibility study is conducted, since the show car will also take several months to finish. The development period can range from about 6 to 10 months depending on what the show car should be able to do. The focus should be on implementing everything that's considered beneficial to the intended product vision in terms of included features. Aside from general styling and the appearance of the car, this also includes every feature that makes the car recognizable. If its main USP is an innovative software, then this software should be implemented in the show car. If it's a particularly secure car, then every feature relevant for ensuring said security should be implemented. The show car primarily serves to promote the future vehicle, not to give insights on the current stage of development. As such, the show car can omit certain limitations. It doesn't even necessarily have to be drivable, unless it's intended to be.
Planning Your Debut
As important as designing a show car is, the event at which it will be presented is just as paramount to the public's first impression of the vehicle. It's possible to present the car at a public motor show, however, this option takes away most of the control that the vehicle owner has over the presentation. Hosting a private event is an alternative to such public motor shows. This option, while more time-consuming to organize, allows the oraganizer to keep full control over every aspect of their public debut, from the organization and proceedings of the event itself up to the actual unveiling of their brand and the show car that represents it.
Invite the Experts – and Heed Their Feedback!
Choosing to host a private event also means that its invitees can be selected freely. The host can, therefore, invite specific people they want to show their vision to the most. This is an especially profitable measure when looking for partners and/or investors to back the project. In short, a private event is the opportune choice for meeting with a select group of potential investors, business partners, or journalists.

Speaking of journalists, there is one key resource in the development process that has not yet been attained: public opinion. The show car presentation will be the first and most important instance for obtaining feedback from people who are not involved in the development process at all – most importantly, from trade journalists who will inevitably form an opinion about both the show car and its owner. This will provide a clear picture about potential improvements to the product and brand, provided that the feeback can be properly organized and interpreted.
What's Next?
New entrants in particular should continue to regularly communicate developments to the public and (ideally) show multiple show cars during the continuation of their electric vehicle's development and later production phase. As they are yet largely unknown in the market, it's wise to show every step of the vehicle's development, as this will cement the new entrant as a player to be recognized instead of a passing fad. But regardless, once the unveiling of the brand has been accomplished, it's time to move into the next phase – finding the right investors for the project.
CONCLUSION
All in all – realizing your visions in the automotive industry as a new entrant is a substantial undertaking with many requirements, steps to consider and people to convince.
All challenges notwithstanding, now is the best time for bringing a new electric vehicle to the market and produce your own car. Electric vehicles are strongly on the rise and will probably dominate the market in 20 to 30 years. Competition is already fierce but will become even more so in the next couple of years. Thus, if you want to enter the EV market, it makes sense to secure your share of the market now.
This page should provide you with some orientation for your first steps towards an own electric vehicle and prepare you for the next step on your automotive journey: finding investors willing to support your project.
For a detailed guide through the most important milestones along your way, please also refer to our whitepaper "10 milestones for bringing your car from vision to reality" and our other articles on this page. They will help you with getting your vehicle development and production started in a structured and expedient way.

So, what are you still waiting for? Let's take the first step to bringing your automotive vision into reality.
Subscribe Today
Subscribe today to see how we're making the impossible possible by solving some of the industry's most complex problems.
Subscribe Today
Subscribe today to see how we're making the impossible possible by solving some of the industry's most complex problems.
Back to all Articles
Dietmar Kleindienst
Dietmar Kleindienst is Director of Key Account & Business Development for North America Region and new entrants on a global base of Magna Steyr since 2021. He joined Magna in 1994, and before he joined the Sales & Marketing organization in 2018, Kleindienst held several operational and management positions in Supply Chain Management, Manufacturing Engineering and Program Management in Graz, Austria and within abroad assignments in North America. He holds a degree in Industrial Logistics.