When establishing the ecosystem for developing an EV, it's vital to find suitable vehicle development and car building partners who lend support in executing and solving the technical aspects of the project.
At the same time, however, it's also important to remember that manufacturers will not simply cooperate with anybody asking for their support. Both parties are usually unknown to one another, so the car building partner needs to get an understanding of the new entrant, their organizational structure, and their vision before they can determine if a cooperation will be beneficial for both parties.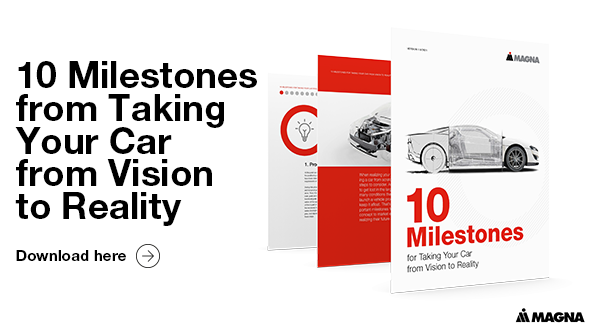 As such, a car building partner will have a number of key questions for any new entrant who pitches their idea to them.
Car Building Partner Question 1:
How Do You Plan to Finance Your Vehicles?
The average cost required to get a vehicle onto the road is very high. Even with the most cost-efficient routes available, such an endeavor still requires a large sum of money on the part of the new entrant and they won't be in the black for at few years; at least until sales outperform the costs of development. A car building partner will ask you about this for sure.
As such, it's absolutely vital to not only have the necessary finances available in order to start the development process, but to also have a plan for how to handle the financial situation in the upcoming years and to present this plan to potential car building partners and to your business network.
Thus, it's important for new entrants to have a clear idea of their currently available resources, of how much money they will need in order to bring their vision to fruition, and of the investors they intend to bring on board (in the perfect scenario, these investors would have already approved the project). Without a realistic and thought-out finance plan that takes several years into consideration, a potential car building partner will likely decline to take the risk.
Car Building Partner Question 2:
In Which Market Do You Wish to Sell Your Vehicle?
As mentioned in previous articles, a conductive market study is an important basis for any new entrant seeking to compete in the EV market. Of course, this also means that any car bulding partner will expect their potential partner to have comprehensive knowledge about the market they want to compete in and their target audience:
competitors
trends
developments
How do you expect to perform in the market?
What sales figures do you want to achieve in what timespan?
At what pricing do you intend to sell your vehicle?
All of these questions should be answered by the time the search for a car building partner starts. And after the project pitch, the car building partner should know the answer to all of these questions as well.
Car Building Partner Question 3:
What Suppliers Do You Have in Mind?
Aside from finances, establishing a network of automotive part suppliers will also be necessary for any vehicle's successful market launch. Potential car building partners will want to know about the intended suppliers and the current state of their cooperation:
Which suppliers are you already in contact with? Will they agree to a partnership?
The car manufacturer may also need information regarding the pricing of said parts. If that knowlegde is not available, then a strategy for obtaining the necessary data should be presented instead.

Of course, these questions also cover all of the new entrant's plans for the soon-to-be-established vendor network. Any new player seeking partnership should be able to indicate which vendors they have in mind. In addition, they should also have an idea of their intended suppliers' pricing.
Car Building Partner Question 4:
How Do You Plan to Move Forward Once a Partnership Has Been Established?
Successfully finding development and car building partners and establishing a solid busines network is only the first step towards getting a vehicle on the road. As mentioned before, it's also necessary to have an approximate timeframe in mind. Of course, depending on the specifics, the time needed to develop a car can vary. If the automotive suppliers, investors, and some technical insights on the car's development are known, providing a comprehensive and detailed schedule to partners will be easy to do.
There are, of course, certain time frames and numbers that the new entrant will not be able to provide. That information requires the knowledge and insight of the car manufacturing partner, which the new entrant may also request in order to finalize their schedule.
Car Building Partner Question 5:
Are You a Reliable Partner?
Even the best pitch will not result in a fruitful cooperation if one key ingredient is missing: a common level of reliability and cooperation. It's important that both the new entrant and the development and car building partner establish a degree of trust with one another because developing a vehicle requires tremendous organizational abilities and a high degree of diligence.
This, of course, also extends to investors, suppliers, and other partners in your business network. For every successful cooperation, a sense of mutual reliability is the key foundation every lasting partnership should be built upon.
What Comes After Convincing a Car Building Partner?
After a development and production partner has been successfully brought on board, the infrastructure as well as the technical expertise and insight required to produce a vehicle are finally available to the new entrant.
Both will prove vital in continuing with the next, and possibly most comprehensive aspect of bringing a vehicle from the whiteboard to the road.